Olympic Arms Phoenix Rising Event
UPDATE 11/17/2001 I'm a bit tardy in this update, the new Olympic Arms building is done and open for business. I haven't had the chance to make it down myself.
I am lucky enough to live about an hour away from Olympic Arms in Olympia, Washington. They are manufacturers of a variety of weapons and kits, most famously for their highly accurate AR-15 rifles.
On June 7, 2000 a bearing in an exhaust fan seized and the resulting fire destroyed their sales and shipping building. Luckily the manufacturing buildings were not touched.
To thank all of their customers for their support they put together the Phoenix Rising event this weekend (Sept. 16, 2000). I attended the day's activities, and had a blast!
I woke up early and jumped into my truck to head off for a day of fun and guns. According to Yahoo's driving directions it would take me over an hour and a half to get there, and the tour of the factory was going to start at 9am. As with all the best laid plans, this isn't quite how it worked out.
I got there early (about 8am) and the parking lot was already filling up with people. They had initially expected only 50 or 100 people to respond, but over 200 had RSVPed their announcements of the event.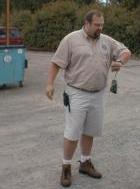 Tom Spithaler did a great job of getting things organized in the face of the overwhelming response, and tour groups of about 25 people each started making their way through the plant right away.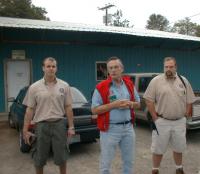 Dan Brennan, Owner Bob Schuetz, and Tom Spithaler give us some background on the company and welcome us to Olympic Arms.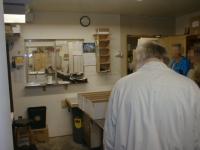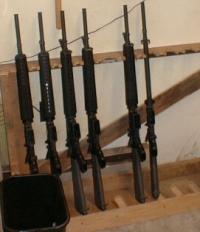 The tour starts out with their new, much smaller, shipping room. Racks of parts in bins are crammed into every corner of the room, with a rack of complete AR-15s up against one wall.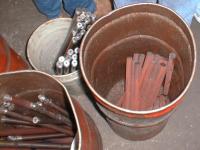 We move on to the barrel manufacturing process. Photos were limited in the manufacturing areas, for security reasons. You can read more about their barrels at the Olympic Arms barrel info page.
The tour continues through the complete manufacturing process for the AR-15s and their Safari Arms .45 pistols. They take raw castings (or forgings) from their casting house in California and machine them into the precision weapons that we all love to shoot.
Here are what the upper receivers look like before being machined into their final state.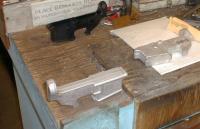 And here are what raw lowers look like.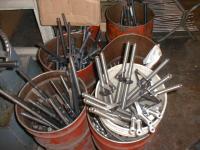 Here are more barrels of barrels, closer to being finished.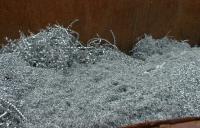 A pile of aluminum shavings, ready to be recycled.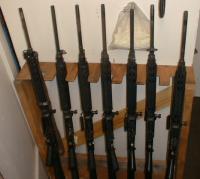 Olympic arms had started producing lower receivers for FN-FAL rifles. They are also experimenting with complete rifles, a couple of which could be found on racks. UPDATE: It looks like they aren't doing the FN receivers anymore, I can't find any mention of it on their current (2005) website.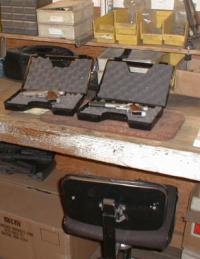 Safari Arms .45 pistols are manufactured by Olympic Arms, before the tour I hadn't realized that they made complete pistols. They are a bit out of my price range, but you get what you pay for!
The fire damage to their sales and shipping building is impressive and sobering. Its quite a feeling to look at the destruction and realize that nature can wipe out everything you've worked for in an instant. Carpe Diem!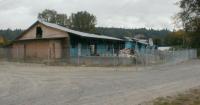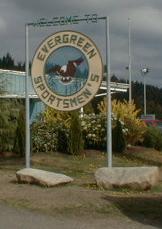 After the tour we caravaned over to the Evergreen Sportsman's Club (a web link would be appreciated, I couldn't find one). This place is huge! The have camping space, skeet, trap, etc. ranges as far as the eye can see, and who knows how many rifle and pistol ranges hidden back in the woods. They were generous in their donation of their facilities to Olympic arms for free! Thanks guys!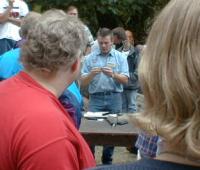 At the range they setup a number of weapons for people to shoot, including a PCR-97 that their Master Gunsmith Steve (?) built on site with everyone watching.
This gun was raffled off at the end of the day with the proceeds going to the Evergreen Sportsman's club. Ironically a reporter from Soldier of Fortune was there to report on the event, and she ended up winning the rifle!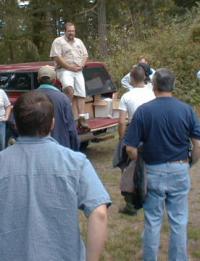 Tom Spithaler was available to answer general questions from the group and hand out the last of their supply of 2000 catalogs.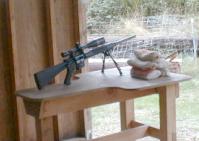 A thousand rounds of ammo and a number of rifles, including their new Durachrome rifle, were setup for people to try out. A fun time was had by all!
They also roasted two pigs for everyone to eat (It tasted great, I've never had roasted pig before). Most of the day was spent shooting and hanging around waiting for the raffle items to be drawn. I regret now not having shot any of their Durachrome rifles, but the line was pretty long and I was having fun BSing with the other guys from the ar15.com forums.
I'd like to thank Olympic Arms for putting on this event and for making such high quality products at reasonable cost.